Best Fishing Sunglasses are Smith Optics!
Mike
If you are in NE Florida you know it is sunny most of the time, and you deserve the best sunglasses to keep you comfortable all day long. Check out our selection of Smith Optics here: https://reverenceoutdoors.com/product-category/best-price-smith-sunglasses/ Smith's are much lighter than the competition and have spring loaded hinges to help keep your glasses snug. They are comfortable to wear all day long without feeling like your nose is going to fall off. We offer the Techlite (glass) or ChromaPop (super hard, super clear, super light) lenses.
We offer free shipping (anywhere in the Lower 48) on every pair and if you are in the Jacksonville, Orange Park, Green Cove Springs, or St Augustine, Florida area you can try them out for yourself. Message us for time to set up exclusive fitting and descriptive session. We can explain the colors of the lenses and the lens technology so you can make the best decision. We also have the Guides Choice Frame with ChromaPop and bifocal lenses in stock just incase you need a little extra magnification for those small knots.
Here is a little info on the Guides Choice which is one of the most popular fishing sunglasses on the market. There is also a little info in the lens construction and why there are superior. Most of our customer were formally Costa wearers until they clearly saw and felt the difference.
Description
The Guide's Choice has been reimagined to exceed the needs of our most demanding customers. Incorporating our most advanced eyewear technologies, this style boasts wide temples and an aggressive wrap for superior light protection. Add to that premium Italian spring hinges, megol nose and temple pads, a detachable sunglass leash, and premium 8-base ChromaPop™ and
Techlite glass lenses, the Guide's Choice is engineered for those that truly believe in the life outside walls.
If you need a little extra help seeing we have ready to wear Bifocals with the ChromaPop Lenses. We also have RX lenses available. Contact us for details and pricing.
PRODUCT FEATURES
Lens options:

ChromaPop

polarized lenses / TLT polarized glass TLT lenses
Anti-reflective and hydroleophobic lens coatings
Medium-large fit / coverage
Stainless steel spring hinges
8 Base Lens Curvature
Includes integrated/detachable sunglass leash
CLEARLY BETTER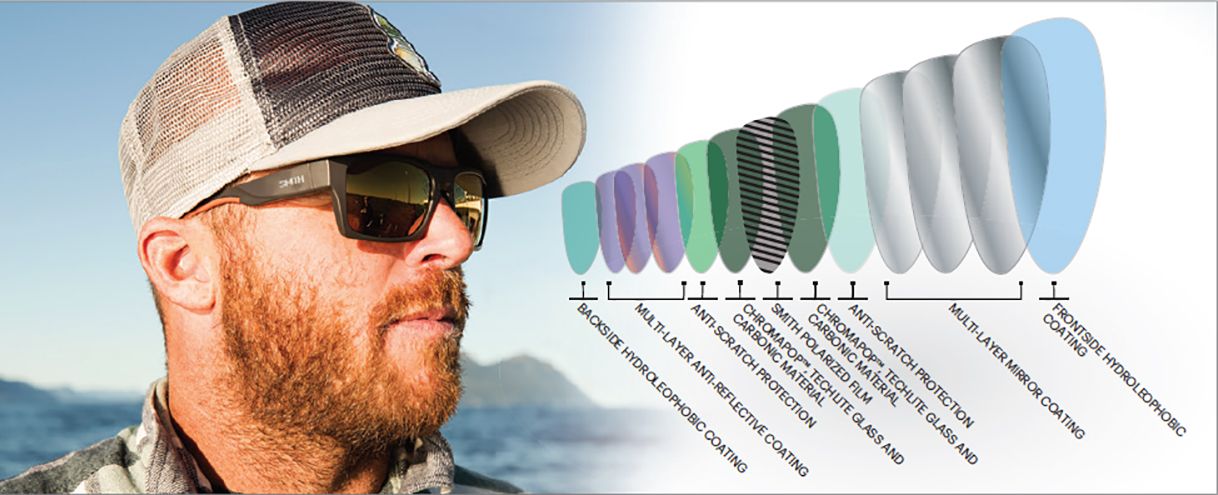 LENS CONSTRUCTION TO OPTIMIZE PERFORMANCE
ChromaPop , Techlite glass and Carbonic lens constructions are optimized to provide a variety of optical and impact-resistant benefits. We precisely align the finest polarized filters and finish our lenses with multi-layer mirror, Anti-Reflective (A/R), anti-scratch, and Hydroleophobic lens coatings. The end result is an artfully crafted lens that preserves color perception and delivers optimized optical clarity and precision in all environments.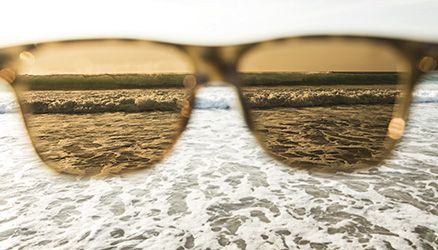 SMITH POLARIZATION
Polarization cuts glare. Glare off of horizontal surfaces like snow, water, and asphalt, decreases depth perception, and reduces visual acuity which causes eye fatigue. We precisely align the polarized visual layer inside our lenses to filter out 99.9% of this "visual static" for a finely tuned view of the action.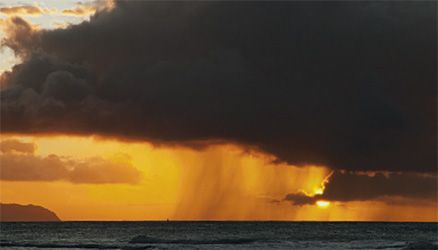 POLARCHROMIC: POLARIZED LENSES WITH PHOTOCHROMIC TECHNOLOGY TO ADAPT TO EVER-CHANGING LIGHT CONDITIONS
With Smith Polarchromic, we combine the glare-free benefits of advanced polarization with UV sensitive, self-tint-adjusting photochromic technology to bring you lenses that adapt to changing light conditions, so you always have the perfect tint for the amount of light.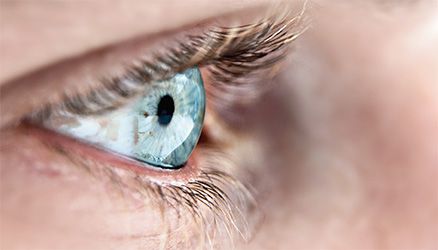 TLT (TAPERED LENS TECHNOLOGY)
When light passes through a medium it refracts, i.e. changes course. If left uncorrected, this refraction can cause visual distortion and eye fatigue. Smith's Tapered Lens Technology straightens out the incoming light rays by progressively tapering the lens from the optical center toward the peripheral view. What this means for you is that you see with 100% accuracy and maximum comfort.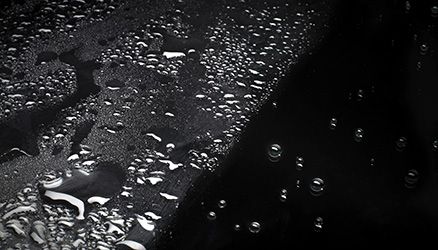 HYDROLEOPHOBIC – WATER AND OIL PROOF COATING
Repels moisture, grease, and grime. A barrier between your lenses and the world. Water will bead up and disperse without streaking. Smudges from fingerprints are wiped clean easily.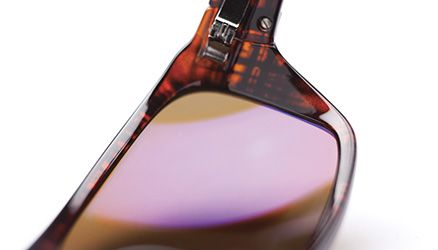 ANTI-REFLECTIVE (A/R) COATING
Vacuum applied, Anti-Reflective (A/R) coatings on the back side of the lens will eliminate bothersome sidelight reflections.